Vince Cooper will be coaching football in every class.
Mike McGillycuddy will visit the school on Tuesday mornings to coach spikeball to children from 3rd to 6th class, there is no cost for children. The 5th & 6th class will take part in a tournament on Wednesday 10th February Read More …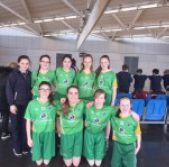 Congrats to our 5th & 6th class girls in reaching the Finals in Spikeball in Limerick on Wednesday 22nd March. Here are some photos of the day. Well done to all involved.